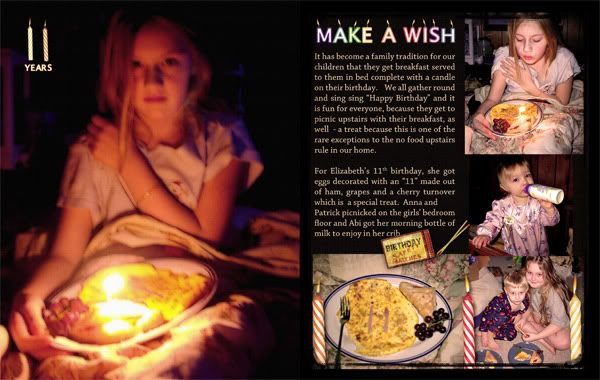 I am trying to catch up on some back photos. I just came to the realization that I need to start putting together my annual scrapbook "magazine" for my family that includes all of the past year's layouts and there are several key events that are missing. My daughter's birthday in February was one of them. I find that I do better scrapping the day to day events and procrastinate on the bigger ones. Maybe because I want to make them special.
Anyway, this one is about my daughter's birthday breakfast in bed.
Journaling reads:It has become a family tradition for our children that they get breakfast served to them in bed complete with a candle on their birthday. We all gather round and sing "Happy Birthday" and it is fun for everyone, because they all get to picnic upstairs with their breakfast - a treat because this is one of the rare exceptions to the no food upstairs rule in our home. For Elizabeth's 11th birthday, she got eggs decorated with an "11" made out of ham, grapes and a cherry turnover which is a special treat. Anna and Patrick picnicked on the girls' bedroom floor and Abi got her morning bottle of milk to enjoy in her crib.
The main photo was a bit blurry due to the low light, but I love the expression on my dd's face and had to use it. I didn't think I should clutter up this page with too many goodies, so I kept the backgound black and just added a few doo dads from Mo Jackson's Birthday Candles set.