Sorry about the lack of posting. Every time I try to post I have had blogger troubles. Hopefully I will get lucky today.
I forgot to mention last week what scrapbook graphics I used for the materity layout below. I was looking for a kit I had to use and didn't have anything that quite matched, so I created my own.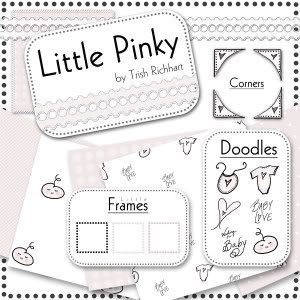 It is called Little Pinky and I had lots of fun with this little baby doodles! I really wanted something in the softest pink and white with just a touch of black to match my photos.
I also created another layout. This one has some journaling and it is more personal.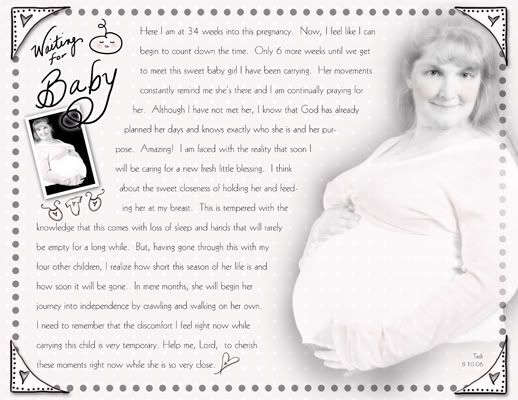 In case you can't read it, here's the journaling:
Here I am at 34 weeks into this pregnancy. Now, I feel like I can begin to count down the time. Only 6 more weeks until we get to meet this sweet baby girl I have been carrying. Her movements constantly remind me she's there and I am continually praying for her. Although I have not met her, I know that God has already planned her days and knows exactly who she is and her purpose. Amazing! I am faced with the reality that soon I will be caring for a new fresh little blessing. I think about the sweet closeness of holding her and feeding her at my breast. This is tempered with the knowledge that this comes with loss of sleep and hands that will rarely be empty for a long while. But, having gone through this with my four other children, I realize how short this season of her life is and how soon it will be gone. In mere months, she will begin her journey into independence by crawling and walking on her own. I need to remember that the discomfort I feel right now while carrying this child is very temporary. Help me, Lord, to cherish these moments right now while she is so very close.
I have my weekly OB appointment today. I am now less than a month away from my due date. I think it is time I drag out all the baby gear and get it washed and ready. I am really hoping this will be my early baby. Actually, on time would be early for me. (All the others have been late.) Perhaps, if I have everything ready, the baby will take the hint! ;-)