No, I haven't been drinking, but I do feel like I have a hangover of sorts. After the months of planning and preparation for Christmas, I can finally take a breath and relax. Of course, all those tasks that I have been putting off until after Christmas are now looming over my head. I really don't even know where to start. [sigh] That's just life, though. There is always so much to do. I don't think it would matter how much time I had, I would still never run out of work. I do have to say that this was my most organized Christmas ever. I owe that to early planning. I did that this year with the help of
this little Christmas planner
. What a difference it makes starting in October! The planner has a week by week schedule to follow and really helps you to get a lot done. It also helps that we were more minimal with the Christmas gifts this year. Our kids got their traditional gifts of PJs, socks, and underwear and then we got a big family gift.
And about that...all I can say is that
Wii
are having fun!
My kids (especially the older ones) have been drooling over the Wii for quite some time. We were not going to buy such an extravagant gift, but when I started thinking about how much we would end up spending on individual gifts for 5 kids, I figured we would have that kind of outlay of money anyway.
If you want to see something hilarious, watch a 4 year old and a 6 year old in a Wii boxing match. They put so much into it. Abi was giving Patrick some kung fu air kicks even though we kept telling her to just use her arms. Patrick felt it nescessary to make the punching sound effects. I suppose that is just because he is a boy and LOVES to make those kinds of sounds. I wonder if he is ever in a situation where he really needs to fight if he will add the sounds, too. "Take that...ppshhhh....pshhhhh..." Hee hee! Both kids were running in place so fast that I thought they were going to wear down the floor. They have a boxing technique all their own!
Santa also brought the kids some used PS2 games for their stockings, so they are kind of in video game overload. I figured I would let them go crazy this week because we are on holiday, but then we are gonna have to enforce some serious limits.
Off the subject of Christmas...
Here's a funny little video parody about homeschool families. I got a kick out of it.
Speaking of homeschooling, I got creative this morning and put together a cute Reading Record sheet. My oldest already keeps her own reading list, but I am going to start having my 10 year old keep her own, too, and I thought she would do better using a form. Of course, I will still have to keep track of what the little ones do. Keeping good school records is a weak area for me. I thought perhaps I would be more excited about it if I had something cute to use.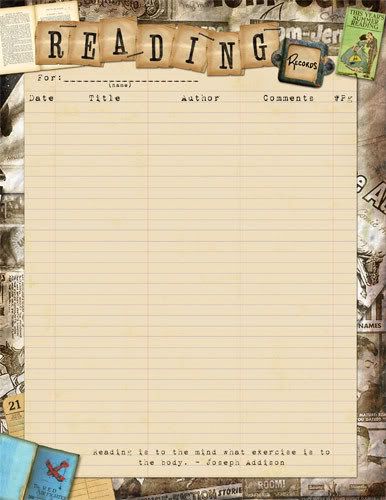 Credits for the reading form can be found
here
.
I better get away from the computer and go have some fun with the family.
Have a great day!